India is a land of diversities in terms of region, religion, language, traditions and more. With around 29 states and 9 union territories, the customs and traditions vary across states. The universality of marriage within different societies and cultures is attributed to the many basic social and personal functions and the bridal attire and jewelry represent the tradition of a particular state or religion. Lets have a look at the unique brides of India!
Indian Bridal Jewelry of different religion and culture
1. KARNATAKA BRIDAL JEWELRY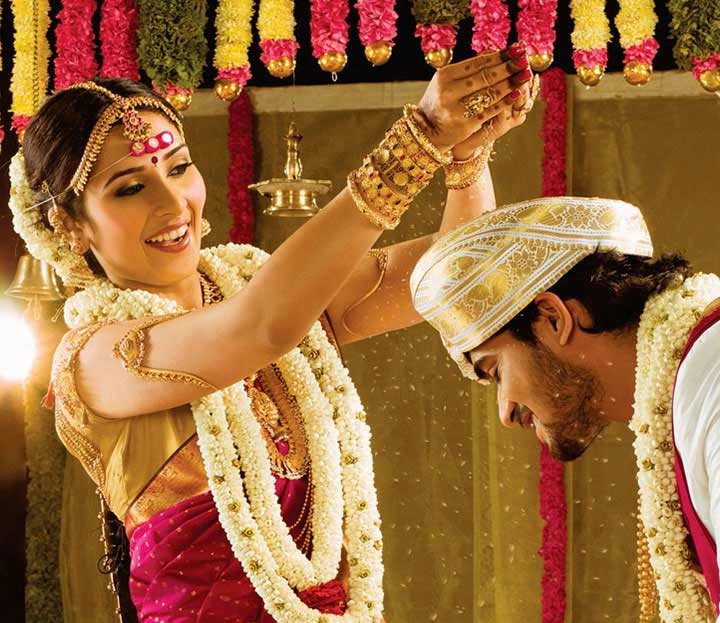 With silk saree and beautiful "mallige jade" hairdo, Karnataka bride's jewelry includes basinga, maang tikka, traditional jhumkas, bajuband, waist belt, glass bangles, gold bangles, multiple layer of gold necklaces usually temple jewelry and silver anklet. Post marriage, she wears the Mangalsutra and toe ring .
Click below for more traditional jewelry of Karnataka

https://www.dhanalakshmijewellers.com/bridal-jewellery/traditional-karnataka-jewellery-entele-sara/
Konkani Bridal Jewelry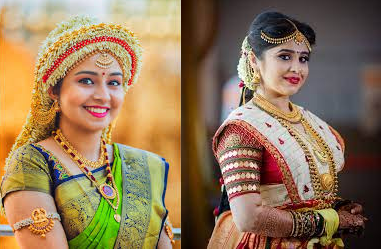 Konkani is a minority community in the state of Karnataka. The tradition and custom of this community varies from other Kannada bride in terms of the special hairdo known as "Sonphool" and the veil draped over saree known as "AADVARL". Further Vajra kutka Jodu and Coral necklace are unique jewelry adorned by a Konkani bride along with other jewelry of a Karnataka bride.
Find more Konkani mangalsutra designs here

https://www.dhanalakshmijewellers.com/blog/mangalore-style-mangalsutra-designs/
Coorgi Bridal Jewelry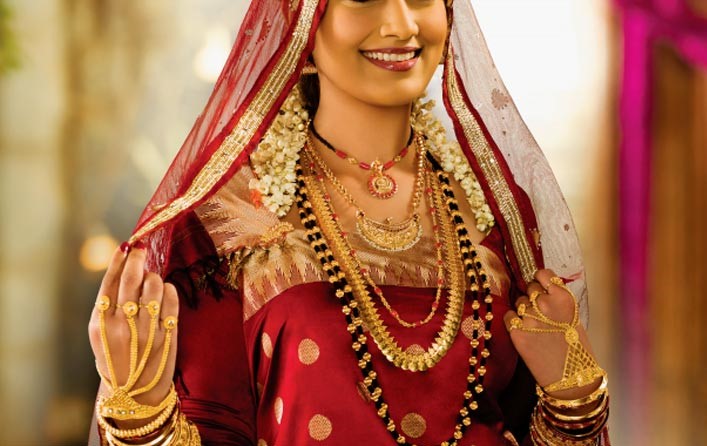 Coorg officially known as Kodagu is a popular hill station in Karnataka. What differentiates the coorgi bride is the unique style of saree draping followed by their unique jewelry –KarthamaniPathak, Jomale sara, Kokkethathi and Kaal Pili to name a few.
2. KERALA BRIDAL JEWELRY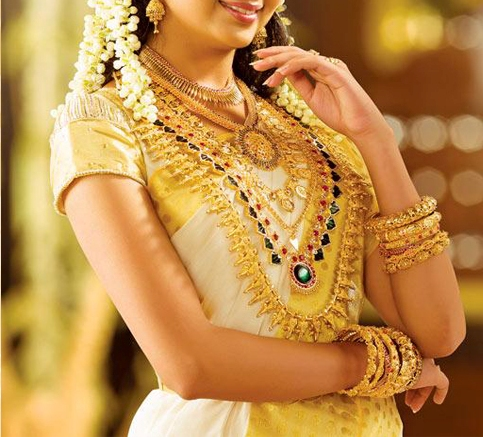 While India's love for gold is no secret, the people of Kerala seem to have an unparalleled affinity for the precious metal. When it comes to jewellery, nothing beats the gold ornaments that adorn a Keralite bride. The average weight of the gold jewellery worn by an upper middle class Keralite bride is 320 grams, making Kerala's bride India's true golden girl! The uniqueness of Kerala Bride is the "Kasavu saree" and the layers of gold necklaces hat she adorns.
Kerala Christian Wedding
A Kerala Christian bride also wears Kasavu saree and many traditional gold jewelry like a Kerala Hindu bride along with white veil. She also wears a typical Christian wedding gown for her wedding reception.
Know more about Kerala Bridal Jewelry here:

https://www.dhanalakshmijewellers.com/blog/kerala-bridal-jewellery/
3. TAMIL BRIDAL JEWELRY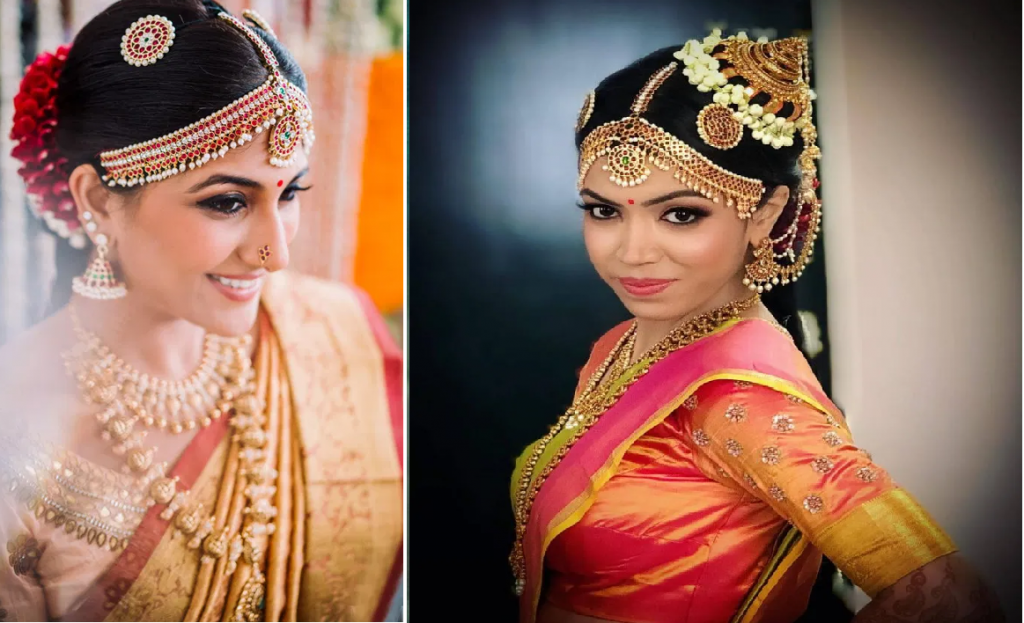 Tamil marriages differ based on the community like the Chettiar (Nagarathar ) , Iyengar and more. Kemp jewelry is an important part of Tamil weddings. Iyengar brides wear the traditional hair do "Andal Kondai" with hair accessories. Other traditional south Indian jewelry like temple jewelry, mango mala, kasu mala , vaddanam, bajuband, ear chain jewelry are also adorned by the brides.
Know more about chettinad jewelry here:

https://www.dhanalakshmijewellers.com/blog/prettiest-chettinad-jewelry/
4. TELUGU BRIDAL JEWELRY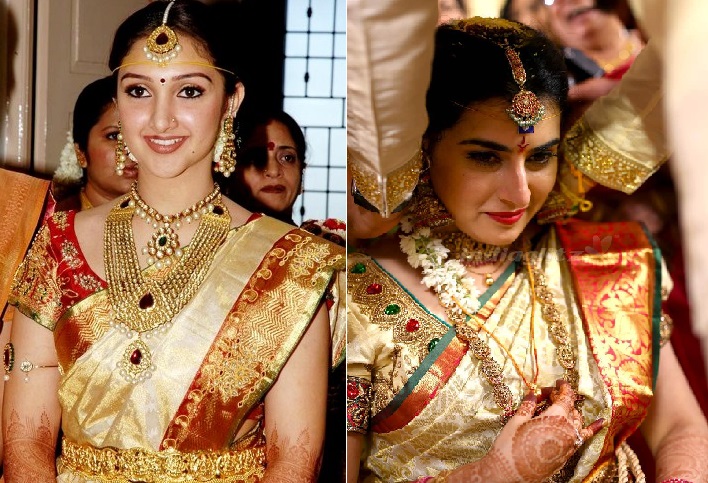 Here again, customs differ based on the caste like the Brahmin community, Naidu, Reddy and more. Predominantly, a Telugu bride wears white saree with red border as a part of wedding ritual. The Jewelry chosen would be similar to other South Indian Jewelry like the traditional lakshmi temple jewelry, gundla hara, kasu mala, mango mala, armlet, vaddanam and more.
Search for Mangalsutra and Guttapusalu Necklace designs, a popular Andhra Jewelry:

https://www.dhanalakshmijewellers.com/blog/latest-guttapusalu-necklace-designs-and-patterns/
5. MAHARASHTRIAN BRIDAL JEWELRY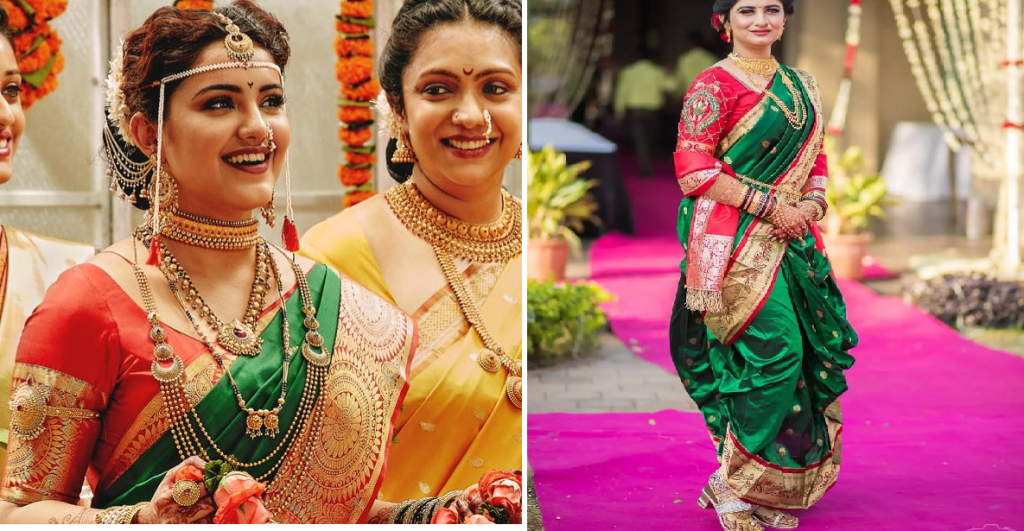 Maharashtrian Bride is unique for the dhoti style saree drape. With the Mundavalya, traditional Maharashtrian Nath and other Maharashtrian Jewelry like the Gundla Hara, Thushi Necklace, Pichodi bangles, Tode , vanki, waist belt and more, the girl completes a typical Maharashtrian bridal look.
6. GUJARATI BRIDAL JEWELRY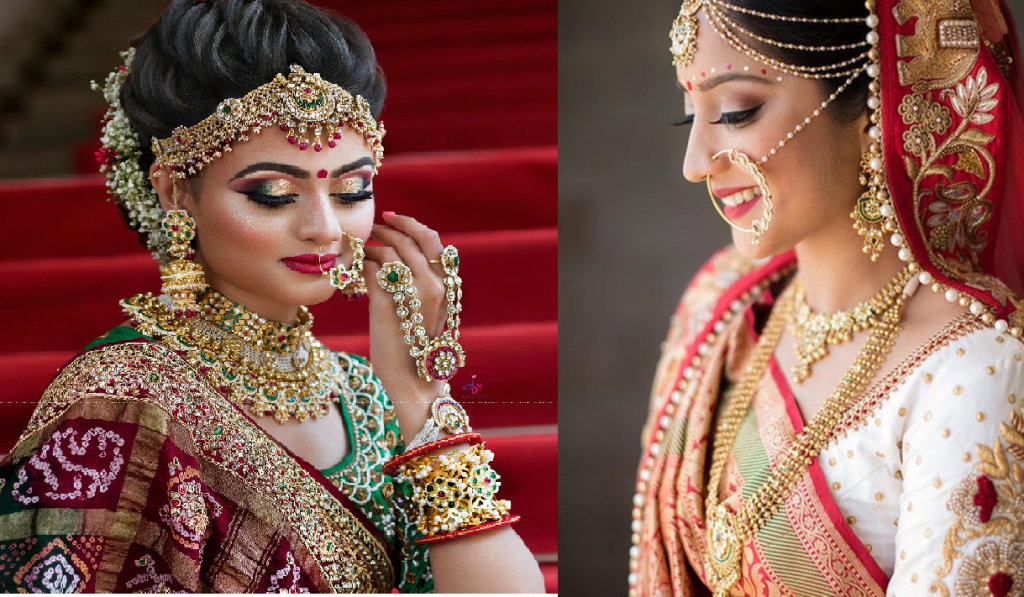 Gujarati Bride wears colorful lehenga or saree draped in a unique style which is common in many North Indian states. The traditional Gujarati bride wears heavy maang tika, nose ring with chain, traditional necklace like chandan haar, kaari ganti jewelry, kundan jewelry to name a few.
7. RAJASTHANI BRIDAL JEWELRY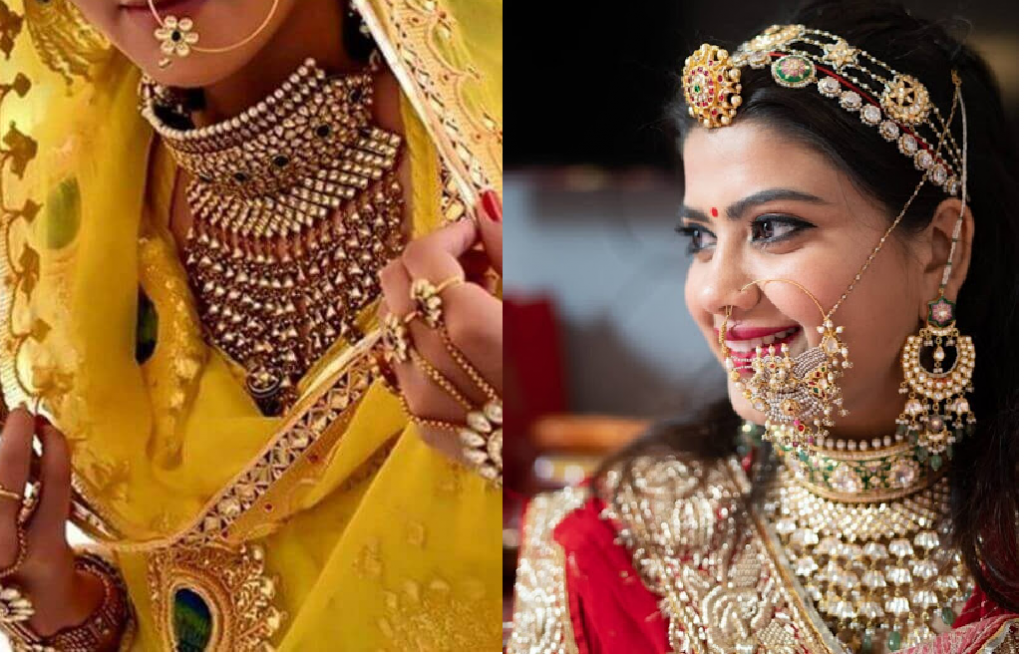 The Rajasthani brides are usually adorned in majestic yet conventional jewelry like – rakhdi, bajubandhs, gorgeous balis, big nose ring with chain, traditional aad jewelry, a choker with uncut diamonds etc
Check out popular Rajasthani AAD jewelry designs here:

https://www.dhanalakshmijewellers.com/blog/beautiful-rajasthani-aad-necklace-designs-for-brides/
8. PUNJABI BRIDAL JEWELRY
Brides of Punjab, Haryana, Delhi have similar attires. Again based on communities within the state, the attire and marriage rituals will differ. We bring you the popular wedding attire of a Punjabi Bride which includes the heavy mata patti, Latkan Nath, Saggi Phul, Jhumar, Jugni, anghooti usually a big finger ring, traditional Kalires, uncut diamond, kundan or polki necklaces, traditional red chura, heavy anklets pajeb to name a few.
Check out traditional Kalires designs below:

https://www.dhanalakshmijewellers.com/blog/different-kinds-of-kalires-designs/
9. KASHMIRI BRIDAL JEWELRY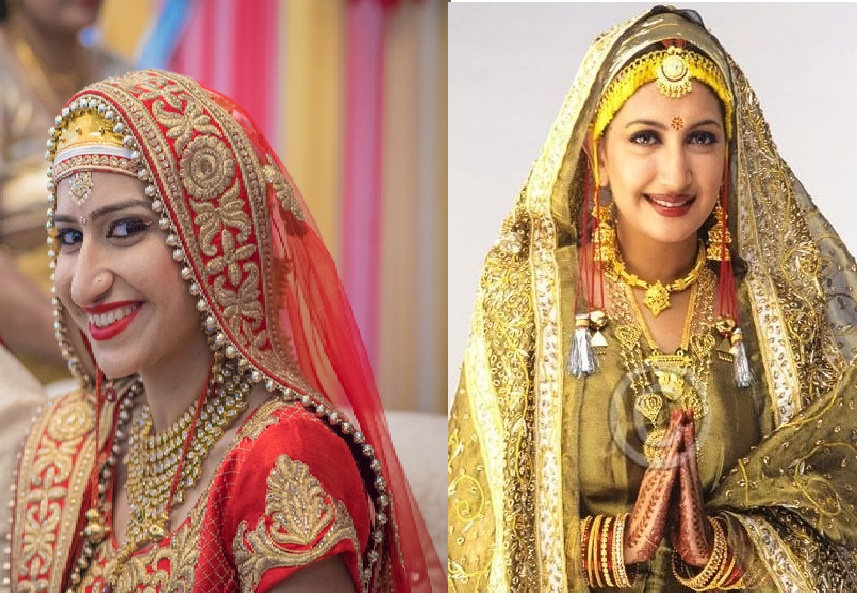 Kashmiri bride wears a traditional dress known as the Pheran, which is usually hand-embroidered using silver or golden coloured thread followed by Taranga, a popular head scarf, Jiggni and Tikka and popular Kashmiri Dejhoor earrings.
10. BIHARI BRIDAL JEWELRY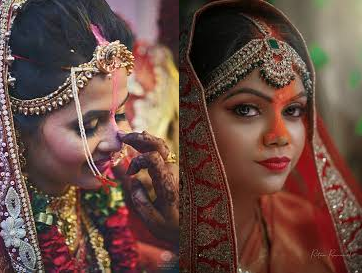 The wedding attire of the states of Bihar and Jharkand for brides look similar with unique Sindhoor daan tradition in which the bride is made to apply the vermilion starting from nose tip to forehead. The jewelry includes the tikli, nose ring, choker, Dholna, Sita haar, Mauri, Bichua to name a few.
11. BENGALI BRIDAL JEWELRY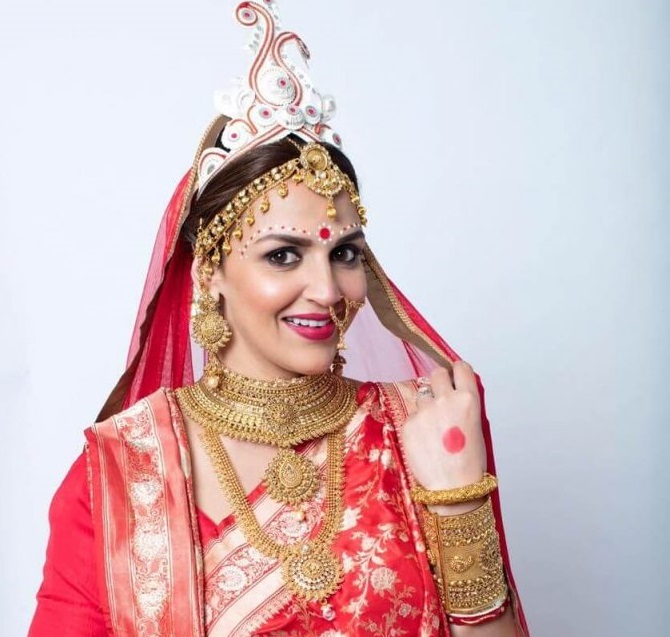 Esha Deol looks ravishingly beautiful as a Bengali bride with the traditional Bengali red Banarasi saree, red lips, large red bindi, a white Mukut and traditional gold jewellery- Shonar Mukut or The Crown,Tikli and Tiara, Nolok or Nath, Kaan bala or earings, chic or choker, Saath Noli haar, Ratanchur, Shakha, Pola & Noa- the three traditional bengali bangles.!
Known more about Traditional Bengali Jewelry here:

https://www.dhanalakshmijewellers.com/blog/erica-fernandes-aka-sonakshi-bose-jewellery-in-kuch-rang-pyar-ke-aise-bhi/
12. ASSAMESE WEDDING JEWELRY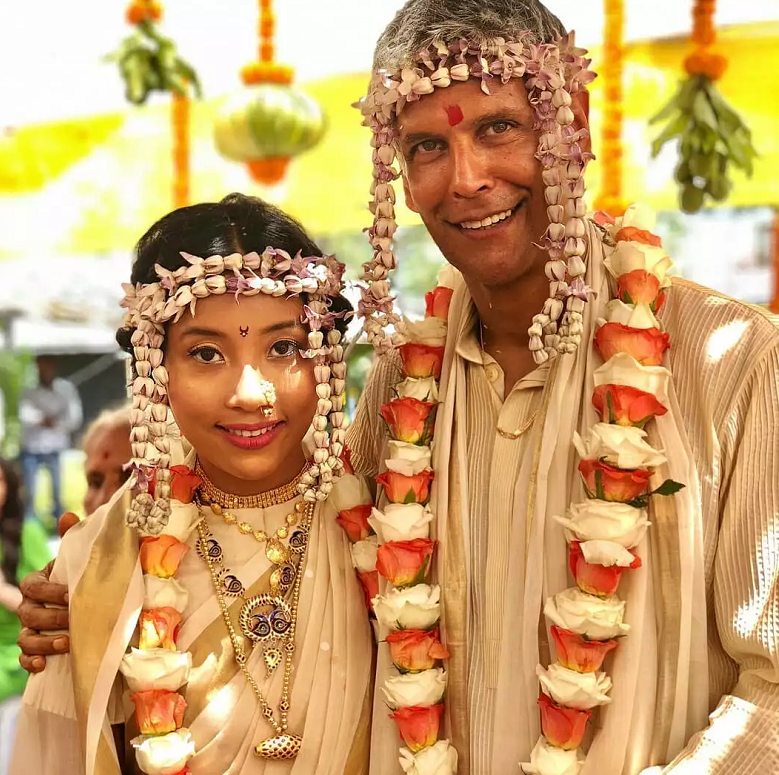 Assamese bride wears a distinctive regional bridal ensemble – the mekhela chador which is typically made with handloom silk and cotton and some unique jewelry of the state which represents the culture of the state, though some jewelry are replaced as per personal choice. Assamese traditional jewelry includes the Dholbri, Gamkharu, Golpata, Kerumoni, Jonbiri, Loka Paro, Doog-dogi, and Thuria.
13. MANIPURI BRIDAL JEWELRY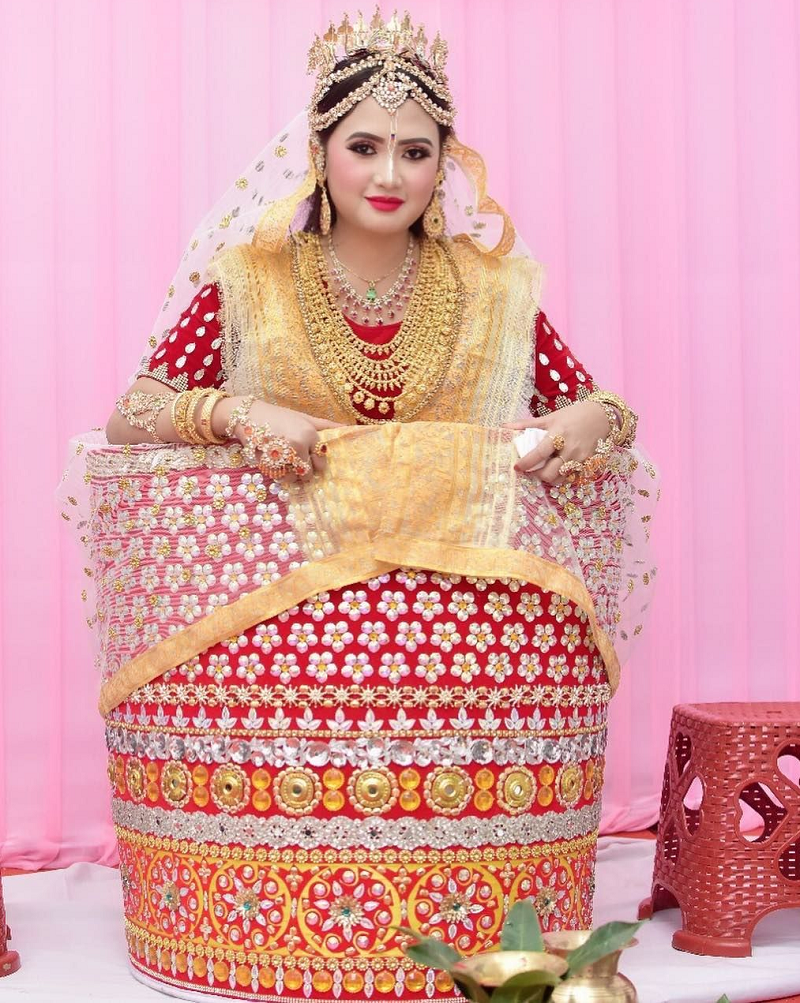 What makes a Manipuri bride different is the unique headgear worn by the her known as Koktun and the traditional Rasleela dress ( Potloi) along with salong and choli, which makes her look very colorful!The Manipuri wedding jewellery is mostly set in gold with attached beads, pearls, and precious stones. the traditional Manipuri jewellery such as Kiyang-Likphang, Marei, Heibi Mapal, and Khimahurn are widely adorned, even today.
14. ODISHA BRIDAL JEWELRY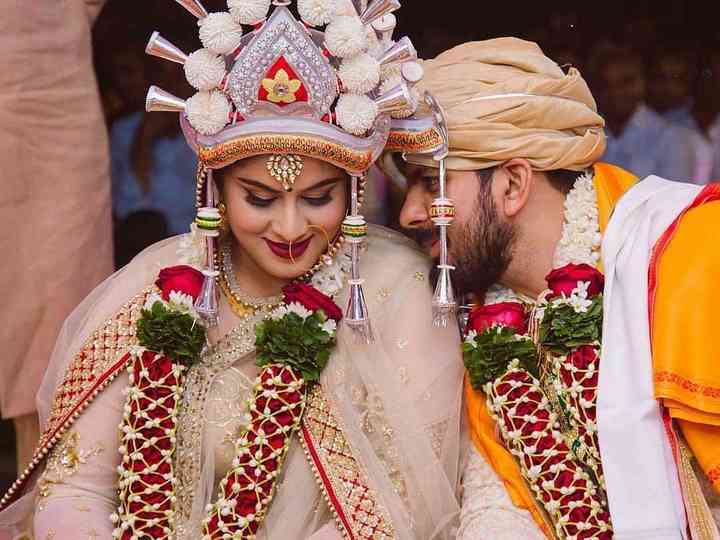 Odiya bride wears a traditional headpiece made of shola pith called mukut and Baula patta, a traditional yellow saree with red border. Over the years, the choice of a contemporary bride has changed in terms of the ensemble they wear or the jewelry. Traditional Odia wedding jewellery also consists of notha -nose pin-, nuluka-circular barbell for the nose septum-, kalara haara-a necklace with designs similar to leaves of bitter gourd plant-, ball chain/kathi chain, cheeka -choker- chandra haara-a three layered silver kamarbandh for the waist to name a few.
While the above bridal list is state-wise, based on religion we bring you some generic wedding attires and jewelry!
MUSLIM WEDDING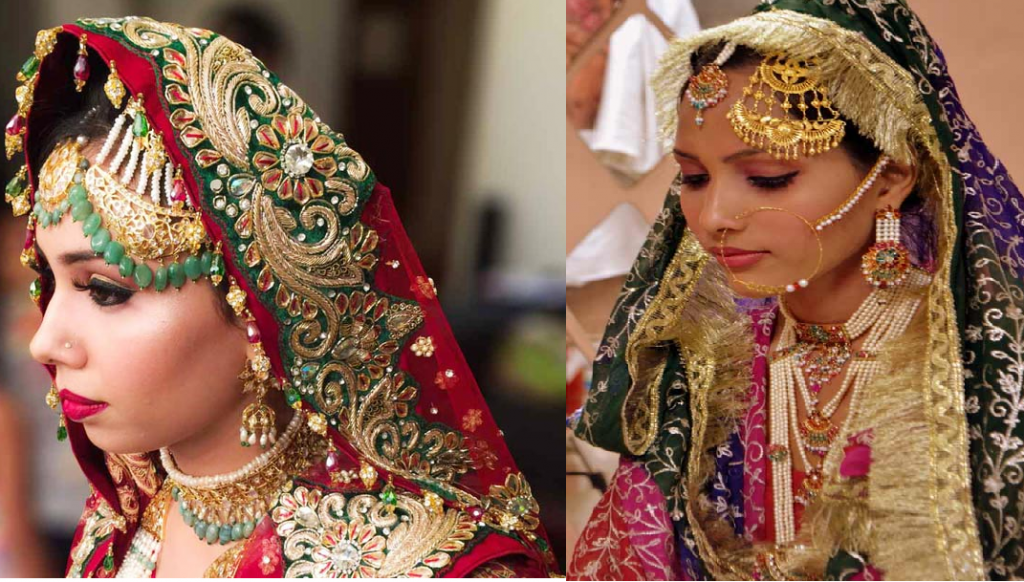 Muslim brides wear bright colored ghagras of sharara kind with veil. The head scarf also becomes an essential part in some Muslim weddings. When it comes to jewelry, the jhumar or passa is the must have for a Muslim bride followed by the maang tikka, earrings, heavy choker necklace set in gold, pearl or stones, hand harness bracelet and heavy gold bangles.
CHRISTIAN WEDDING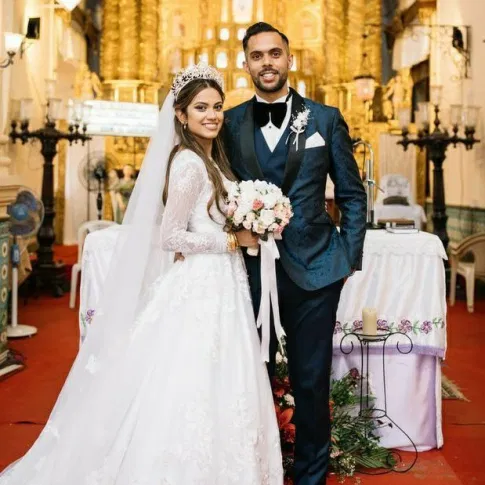 A typical Christian bride choses a long white gown with long veil on her head while some Christians of some communities and states prefer saree- either silk or any other of their choice. when it comes to jewelry, a Christian bride usually prefers stone jewelry to match the white ensemble- a tiara, earrings, necklace, ring and bangles. On saree they prefer any simple gold jewelry to match their wedding ensemble.
BUDDHIST WEDDING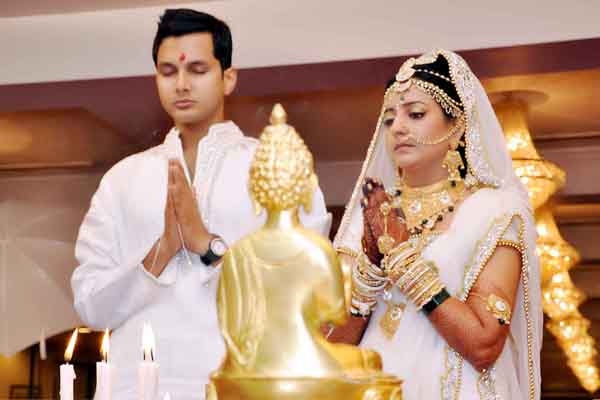 Buddhist bride wears the traditional white nauvari saree for the wedding with stunning gold, kundan or stones jewelry . Usually the jewelry worn have the symbols of Buddhism used in them.
JAIN WEDDING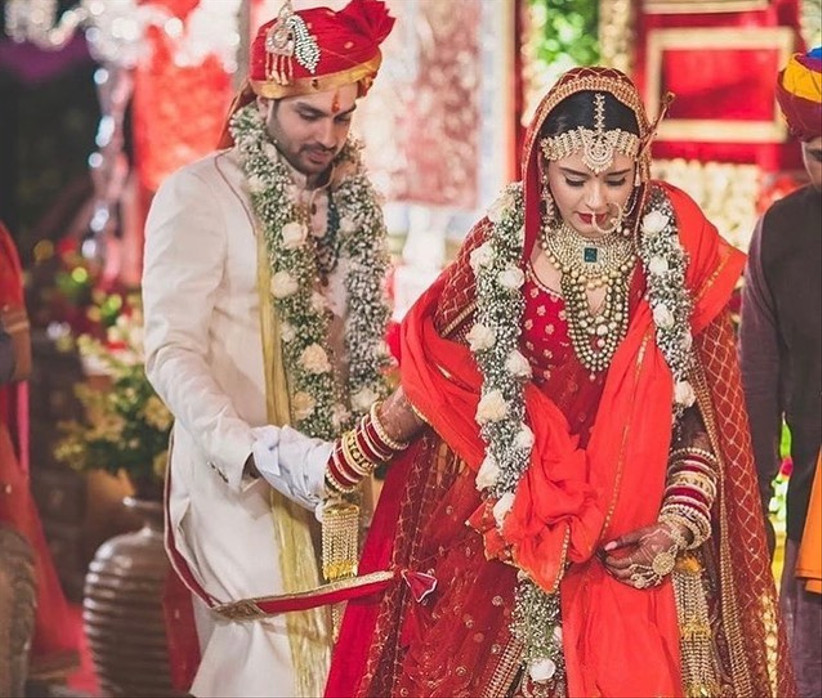 The Jain community in India are the oldest followers of the Sramana traditions, following the faith laid down by the 24 Tirthankars. Jian weddings are rich and expansive! Again based on the castes, the marriage rituals vary. A typical Jain bride is beautifully adorned in rich lehenga with head veil followed by rich jewelry which can be of gold or uncut diamonds- The maang tikka, heavy nose ring, choker and long necklaces, red chura, gold and diamond bangles with traditional Kalires, heavy silver anklets to name a few!
Note: Please note that some states with similar wedding attire has been omitted. Also please note that we have tried our best to highlight the most common wedding attire and jewelry of a particular state. Further based on the region, religion and caste, the wedding costumes, jewelry and rituals vary. Kindly let us know in the comments below in case any unique bridal attire and jewelry is missed out!