We know pizza is a dish of Italian origin, but it is a dish that is very famous all over the world. The crispy crust, loaded toppings and spicy-tangy sauces makes pizza favorite food for almost all age groups.
I love Paneer and I tried Paneer Pizza today. I was skeptical of how my homemade pizza may turn out, but then see how it looked. Yummy!!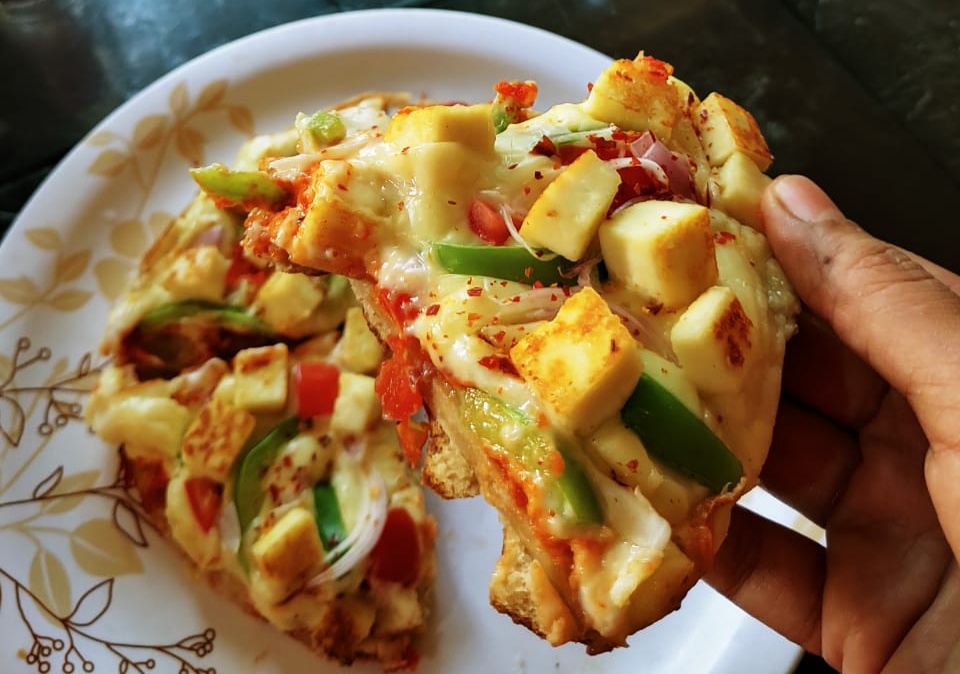 Many think that making pizza at home is very difficult, trust me its not so. Its pretty easy to make pizzas and tastes delicious too!
Basically, there are four steps to make pizza – preparing pizza base, sauce, loading with veggies, finally baking.
Pizza Base
For making pizza base you need minimal ingredients and the process is also simple.
Refined flour or wheat flour
Yeast
Grain Sugar
Butter
Salt
Milk
1/2 cup of Warm Water
Take a small bowl and add 1/2 tbsp of yeast along with 2 tbsp of lukewarm water. Add 1/2 tbsp of sugar and mix well with a spoon. The sugar helps the yeast to get active.
On another side, in a mixing bowl take 250 grams of refined flour.
Add salt as required. Then add a little butter. [You can also use refined oil instead of butter.]
Add the yeast mixture and mix well.
When you see all the ingredients are mixed well, add milk, and start kneading. You can also add lukewarm water if you feel the dough is too much dry.
After the dough is ready, apply some olive oil to make a light coat on this and let it rest for a minimum of 2 hours. [I suggest to keep it for a longer time to make double.]
Pizza Sauce
For making Pizza sauce, you need below ingredients
Tomato
Garlic
Ginger (optional)
Green chili
Basil leaves
Oregano
Chilli flakes
Salt
Sugar
Onion.
Boil the tomatoes a little and peel the skin from it. Make a tomato puree in a blender. Thereafter heat a saucepan with 2 tbsp of oil. Add chopped onion and garlic for fry. When onions turn into light brown, add tomato puree along with basil leaves, oregano, chili flakes, sugar, and salt.
Saute well until the sauce looks perfectly cooked. You can also add water. [If you see that the gravy or sauce becomes very watery, add 1/2 tbsp of cornstarch to make the gravy thicker.]
Load Paneer and Veggies
Paneer
Capsicum
Bell Peppers
Onions
Any other vegetable of your choice
Take the cottage cheese [Paneer] and cut it into cube shapes. Mostly I prefer 1/2 inch square shape, but the 1-inch square is also fine.
In this case, it will good if you marinate the paneer before decorating on pizza. You can marinate paneer with ingredients like salt, pepper, and chili powder. Mix all the spices with paneer cubes and let it rest for half an hour.
Meantime, you can prepare vegetables. You can add onion, bell peppers, mushrooms whatever you want. Slice the capsicums very thinly so that it bakes well.
Arrange and Bake
First, turn on the oven to preheat to 200 degrees for 10 minutes. In the meantime, we can arrange the pizza to bake.
Take the dough and divide it into 4 equal parts. Round it up and place it on the pizza plate.
Spread the dough evenly on the plate by hand. Then prick with a fork on all over the dough.
Take one or two tbsp of pizza sauce and spread nicely on the pizza base.
Spread grated cheese (Mozzarella + Cheddar cheese ) all over the sauce.
Arrange the chopped vegetables on it along with marinated paneer cubes. Some people fry this marinated paneer before use but it's not mandatory.
You can add another layer of grated cheese if you want, but I am absolutely perfect with only one coat of cheese.
Sprinkle some dry oregano and red chili flakes on the pizza. Now your pizza decoration is ready and you can start baking.
Open the oven and place the pizza in it. Set the timer on 15 minutes and the temperature should be 150 degrees.
After the baking is done, put it out from the oven and serve hot!