India is a land of diversities. We have different cultures and customs followed across different regions and religions. India hence celebrates various festivals in a year and Navratri is one such important festival celebrated by people belonging to the Hindu religion. Navratri festival falls in the Ashwin/Aswayuja month as per the Hindu calender, though there is another Navratri festival observed in the month of Chaitra in North India. As the name says, Navratri refers to "Nine days" of celebration to mark victory over the evil. The 10th day is celebrated as Dussehra, which marks the end of the 9 day festival.
During the nine-day Navratri festival, devotees worship Maa Durga's nine incarnations in order to obtain her blessings and also to celebrate the Goddess Durga's victory over the evil Mahishasura.There is a goddess manifestation linked with each day of Navratri.
Why Is Navratri Celebrated For 9 Days?
It is believed that the demon Mahishasura has been bestowed with the gift of immortality from Lord Brahma. But there was one condition for this boon, that he would die only in the hand of a woman, for which Mahishasura easily agreed since he was confident enough that no woman can ever be so powerful to kill him. Thus Mahishasura was granted this gift, due to which he became very powerful and became a threat to humanity.
The gods were also becoming weak in front of the demon and hence they sought the help of the 3 powerful dieties, Brahma, Vishnu and Maheshwara to find a solution to this problem. Thus Goddess Durga was created with all the powers of the 3 powerful dieties, which made her super fierce and powerful. The Goddess fought with Mahishasura for 9 long days taking different forms, to suit the forms that Mahishasura was also taking to save himself. It is believed that Mahishasura finally took the form of a buffalo, and the goddess was able to cut off the demon in this form.
9 Days Of Navratri
Here we list the significance of every day of Navratri and different forms taken by the Goddess during these 9 days.
Day 1: Shailaputri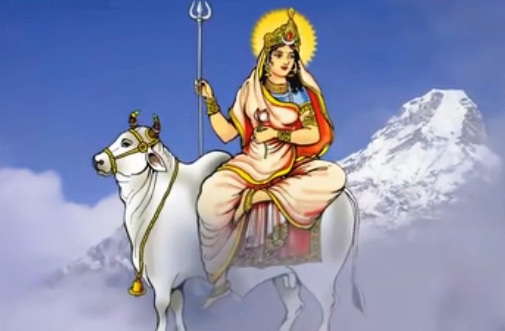 The first form of Goddess is Shailaputri which means daughter of mountain king. She is the first Navadurga venerated during the first day of Navratri, and is a reincarnation of Goddess Sati. She rides on a bull in white attire and is depicted as a feminine form with two hands and a crescent moon on her forehead.
White color is worn on day 1 of Navratri.
Day 2: Brahmacharini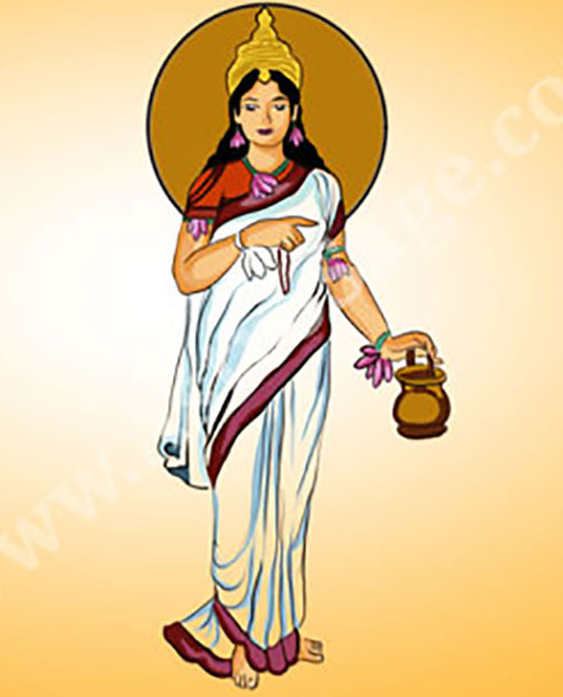 She is the second aspect of Navadurga forms and depicted as a female deity carrying a rosary bead made of dried rudraksha in her right hand and a kamandalu in her left hand. Worshipping her brings wealth, prosperity, and happiness to everyone's life.
Red is the colour worn on second day of Navratri.
Day 3: Chandraghanta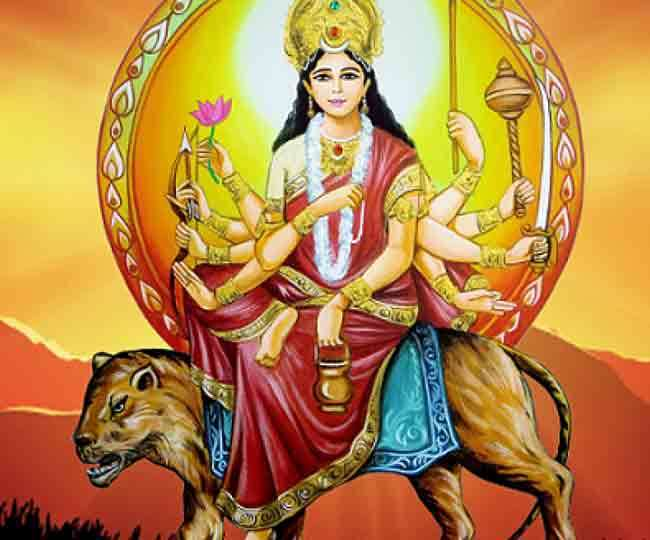 The third aspect of Navadurga has the name Chandra-Ghanta, means "one who has a half-moon shaped like a bell". It is believed that she rewards people with her grace, bravery, courage and end their sufferings and distresses. Her third eye is always open and she is always ready for war against demons. The goddess is depicted as a female deity riding on tiger with 10 hands of which two carry the trident, mace, bow and arrow, khadaga, lotus, ghanta and kamandalu, one of her hands is always in a blessing posture or the abhayamudra which dispels fears.
She is also known as Chandrakhanda, Chandika or Rannchandi. People wear Royal blue on 3rd day of Navratri.
Day 4: Kushmanda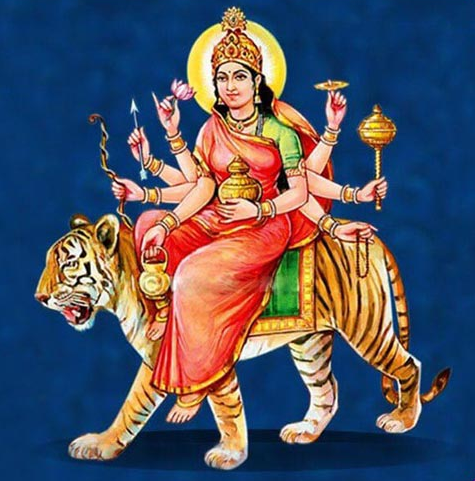 Kushmanda devi is worshipped on the 4th day, where the name is formed by 3 words namely Ku, Ushma and Anda, meaning little, warmth and egg respectively, and can be collectively summed as one who created this universe as a small cosmic egg. She rides on a lion and depicted as a goddess having eight hands carrying deadly weapons, hence known as Ashtabhuja Devi or Adishakti.
Yellow is the colour of Navratri on day 4.
Day 5: Skandamata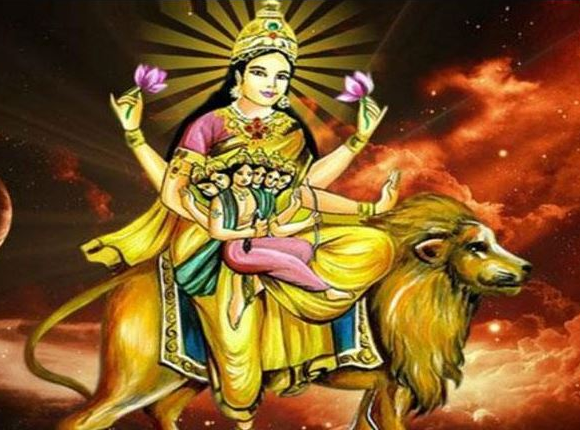 Skandamatha is believed to be the Goddess of love and motherhood. In this form, the goddess is depicted as a female deity carrying Kartikeya in her lap and for this reason Kartikeya is also known as Skanda. She has four arms, three eyes and rides on a lion. While two arms carry lotus, the other two, carries Karthikeya on one hand and blessing mudra or abhayamudra on the other hand.
Green is the colour of Navratri on day 5.
Day 6: Katyayani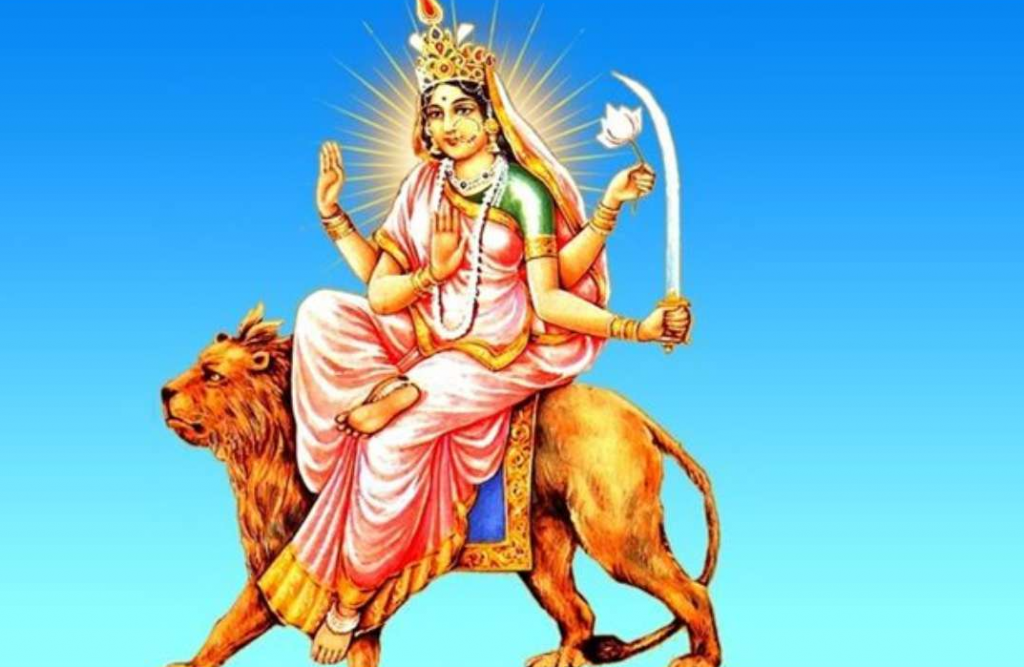 Maa Katyayani is the sixth form of Goddess Durga who is believed to be the destroyer of all evil and bring peace. She is also known as Mahishasurmardini (Killer of Mahishasura), as she was able to defeat and kill the evil demon Mahishasura.
She is known as Katyayani after the sage Katyayana who performed penance of Goddess Durga and asked her to be born as his daughter as a boon.
Grey is the colour of Navratri on day 6.
Day 7: Kalaratri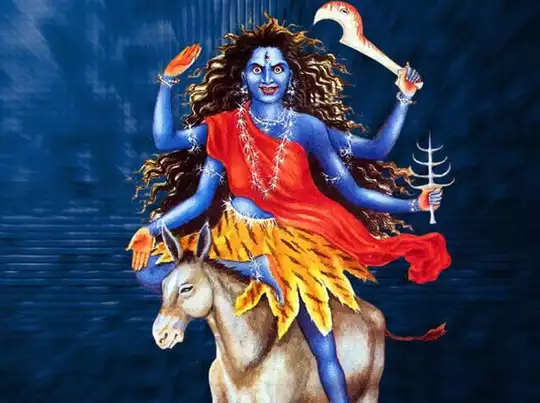 Kalratri is considered as the fiercest form of Durga who is believed to destroy demons, spirits, ghosts and all negative energies. She mounts on a donkey, with four arms, two of which are in a blessing and protecting pose while the other two carry a scimitar and a thunderbolt.
According to mythology, Goddess Chandi created another goddess from her forehead, who came to be known as Kaalratri or Kaali. Maa Kaalratri fought Chandha and Mundha and eventually killed them. Hence, she is also known as Chamunda. After this, Goddess Chandi and Goddess Kaalratri went on to fight the powerful demon Raktabeej.
Orange is the colour of Navratri on day 7.
Day 8: Mahagauri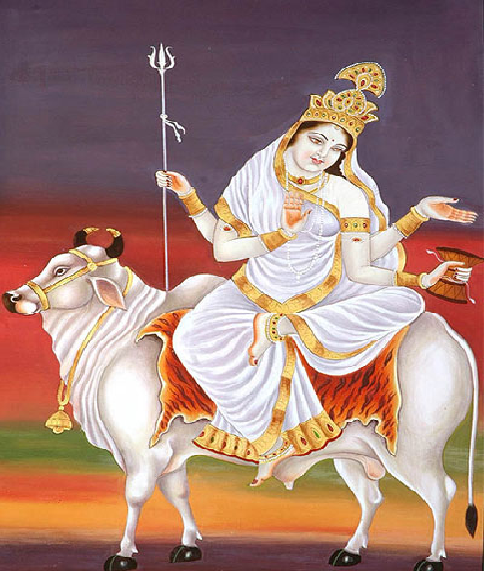 On the eight day of Navratri, Mahagauri is worshipped who is the eighth form of Goddess Durga. Maha Gauri is considered to be calm and compassionate.
The goddess rides on white bull and is a four-armed deity carrying a trident or Trishul on one hand and a damru on her other hand while the other two arms are for blessing and for dispelling fears which are also known as varada and Abhaya mudra respectively.
The 8th day of Nvaratri is very special and known as Durgashtami. On this day, young girls are invited home and offered an auspicious meal as a part of the puja. The prayer ritual is called Kanjak puja(Kanya Puja).
Peacock Green is the colour of Navratri on day 8.
Day 9: Siddhidhatri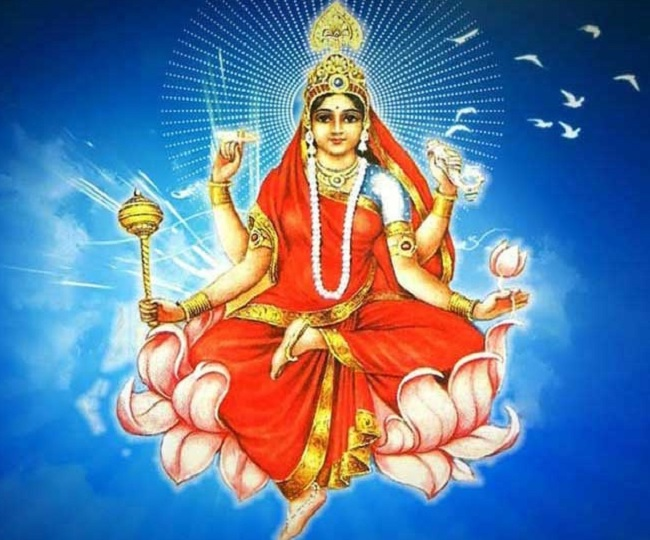 Siddhidhatri is the final form of Goddess Durga and worshipped on the ninth and final day of Navaratri. She is believed to be the provider of all Siddhis. The goddess is seated on lotus carrying a lotus, a conch or shankha, Gada or mace and chakra or discus on her four hands.
Siddhidhatri is beleived to be Mahashakti or the supreme goddess who created the universe and bestowed Shiva with all the siddhis while praying to the goddess Siddhidhatri.
Pink is the colour of Navratri on day 9.
Dussehra
The last and final day i.e day 10 is celebrated as Dussehra which signifies victory over the evil. The eastern and southern states celebrate Dussehra as the victory of Goddess Durga over the evil demon Mahishasura while most northern and western states of India celebrate Dussehra as Lord Rama's victory over Ravana.
The festival of Dussehra is celebrated with different cultures and customs across states. Like in the state of Mysore, Dasara is very auspicious as the traditional involves the royal family and the Jambu savari. It also marks victory of goddess Durga over the evil demon Mahishasura, who was believed to be ruling the state of Mysore.
Other states like Gujarat is famous for its Garbha and Dandiya during the festivities, Kolkata for Goddess Durga pooja, Mangalore for its famous Mangalore Sharada Devi procession.
Below, we will just give a glimpse of 9 forms of Mangalore Sharada Devi during Navratri.
Mangalore Sharada Devi During Navratri
You may also like: