A rotating selection of stud earrings for everyday use can upgrade your outfit instantly and make you look stylish. Simple and subtle design studs are very fashionable these days, they are an ideal choice for daily wear. Earrings draw attention and beautiful studs can give you an elegant and polished looks. Stud earrings are here to rule – these earrings will never go out of style. Whatever is your face cut or color, there is a stud earring which looks gorgeous on you. Pearl earrings are a classic choice, that suits most of the faces. If you prefer bolder looks, then you can opt for trendy acrylic studs, large studs or natural shaped stones encrusted to make studs. Whatever is your preference, here we have picked exclusive studs for you that will surely offer you great inspiration for indulging in this earring style.
Sterling Silver Ball Design Studs
Dainty yet elegant , these ball design studs look chic and is suitable for everyday wear. This goes well on almost every attire you wear.
 Ball Design 925 Pure Sterling-Silver Stud Earrings
Sterling Silver Pearl Stud Earrings
Pearl earrings suit almost every girl and brings a radiance in the face. Choose the pearl size according to your face cut. For office going ladies, pearl studs are must have.
Giva Pearl Stud Earrings For Women
Clip-On Stud Earrings
Clip on studs are very comfortable to wear as they feature secure backing that fixes style on the ear lobe. Further crystals and gemstones add elegance to these studs.
Yellow Chimes Crystals from Swarovski Leafy Fashion Rhodium Plated Crystal Clip On Earrings for Women and Girls
Yellow Chimes Crystal based Radiant Clip on Earring for Women and Girls
Bold N Elegant Antique Gold Plated Pearl Shell Clip on Earrings Stud Earrings for Girls & Women
Floral Design Stud Earrings
Flowers are probably the most loving design in anything you choose. Floral stud earrings are no exception, they just look gorgeous on your ears.
Voylla Nayantara Floral Motif Brass Silver Stud Earrings
Nemichand Jewels Pure 925 Silver Flower Earring Studs For women
Butterfly design Studs
Butterfly designs are trending lately, and studs in butterfly design look ravishing. These studs look pretty on dresses, blazers and blouses.
Yellow Chimes Charming Dual Butterfly Surgical Steel 18K Real Rose Gold Plated Jewellery Set's for Women & Girls
Yellow Chimes Crystals from Swarovski Butterfly Crystal Stud Earrings for Women and Girls
Single Stone Studs
Very convenient to wear, single white stone stud is the most preferred stud earrings. This probably is one design that stays in trend forever.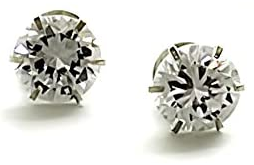 Silverwala 925-92.5 Sterling Silver Brilliant Cut Real Cubic Zirconia Fashion Stud Earrings
Abhooshan 925 Sterling Silver Princess Cut Single White Cubic Zirconia Stud Earrings
Single Stone Colored Studs
Go colorful with these beautiful colored stone studs. Pick pair of stud earrings that matches your dress and look vibrant.
Abhooshan 925 Sterling Silver Pair of Round Single Black Cubic Zircon Stud Earrings
Archi Collection Rhinestone, Crystal Base Metal Cubic Zirconia Earrings For Women's & Girls
Dual-Toned Stud Earrings
Wear dual-toned stud earrings for bolder looks. Showcasing a beautiful design of big and small crystals in emerald green and golden colors, this flamboyant earring is fit for special occasions as well as for everyday wear.
YouBella Jewellery Gold Plated Crystal Earrings for Girls and Women
Zaveri Pearls Contemporary Style Stud Earring For Women