Ganesh Chaturthi is one of the most important Hindu festival celebrated across the country, but what is less widespread is the celebration of Gowri Pooja a day before. Gauri festival is also celebrated with similar importance in many communities. The Gauri pooja is performed in different ways by different people according to their beliefs.
Vayana(Vaina Gowri pooja) is a tradition performed by married Konkani women on Gowri pooja, which is just the day before Ganesh Chaturthi festival. The Konkani community which perform this ritual are usually the GSB community and the Daivajna Brahmin people. When a girl gets married, the first Vaina festival becomes very important and it is performed with more procedures.
Vaina Festival Procedure
Married women take bath early in the morning and restrict themselves from having any rice item food for breakfast. Also they ensure that no onion and garlic is used. Some people have breakfast after the vaina pooja and fast till then.
How is Gowri Coconuts made ready:
Firstly, scrap off all the husk of the coconut. Make sure to use fresh coconut which has enough water inside it. Some people don't remove the tail(or the kudumi), while most of them clear that as well.
Next immerse the cleaned coconut in turmeric water.
Now, apply kajal, kumkum and turmeric on 3 eyes of the coconut. Some people apply Kajal on both eyes and kumkum on the last one with turmeric in center, while some people apply kumkum, turmeric and kajal each on three eyes of the coconut.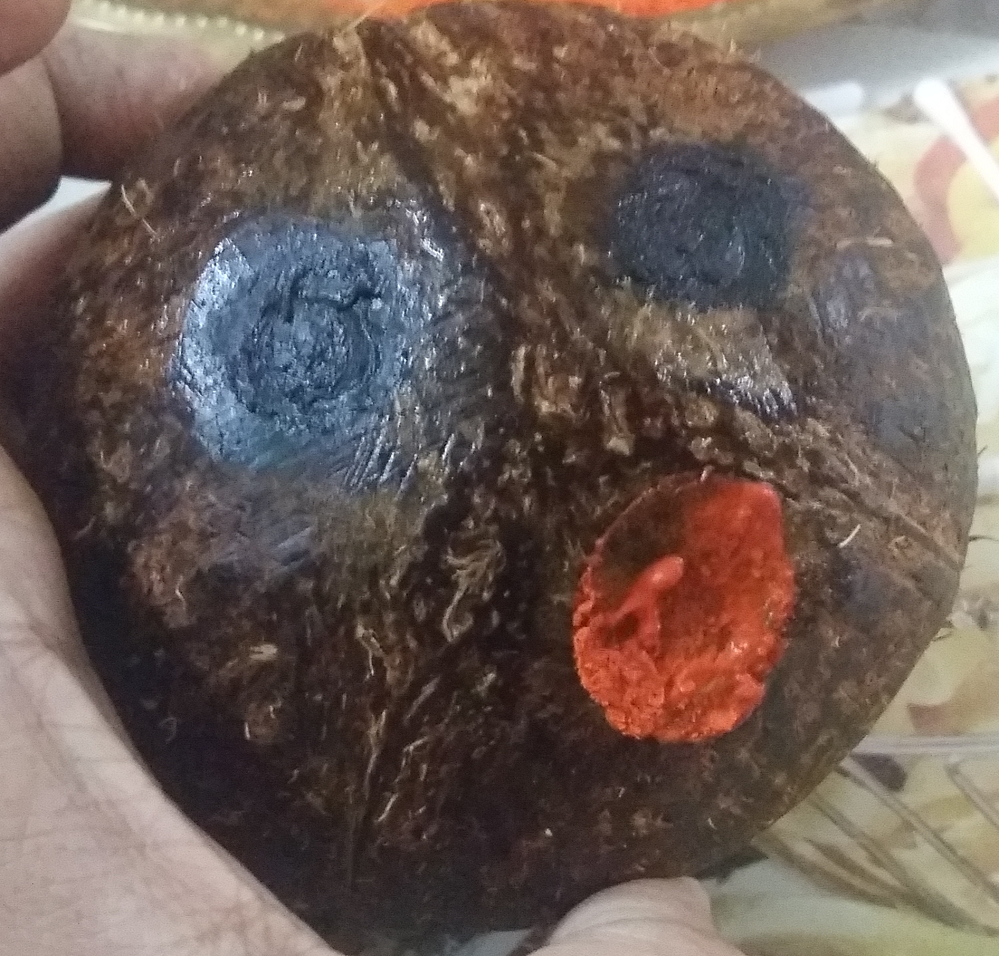 In the middle of the coconut, draw 2 parallel circular lines using white chalk.
5 coconuts are prepared in similar way and used for doing the pooja.
Along with these coconuts, gowri pooja accessories like turmeric, kumkum, bangles, comb, mirror and vaina thread (together known as Gowri saman),banana, cucumber, blousepiece , beetle leaves and nuts, money is kept for pooja.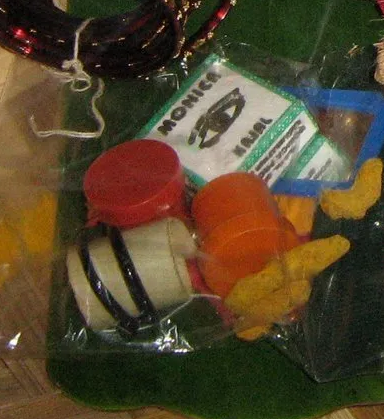 After pooja, the Vaina is offered to other married women who are elder than them.
First Vaina Gowri Pooja
First Vaina festival is considered auspicious for the newly wed as it will be her first Gowri pooja. The usual Vaina festival procedure is followed as such, but usually it will be 21 or 25 coconuts that will be kept for pooja. Further the new bride along with her husband offer the vaina consisting of 2 Gowri coconuts, cucumber, banana, vaina saman, along with Lord Ganesha's favourite delicacies like Chakli, Gujiya or Karjikai or any other sweet to married women who are elder to the couple. This completes the first Vaina Gowri Pooja of the newly married couple.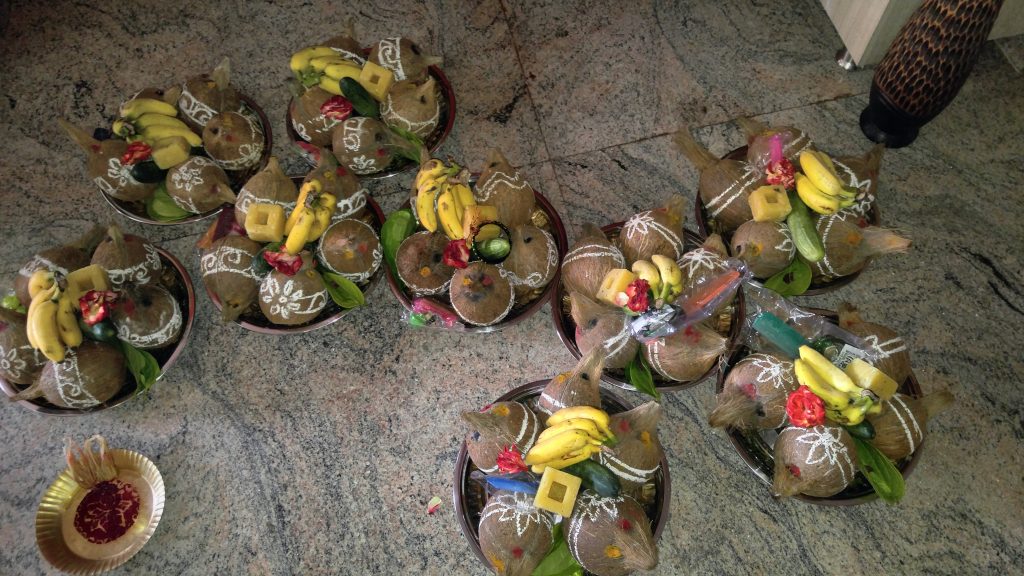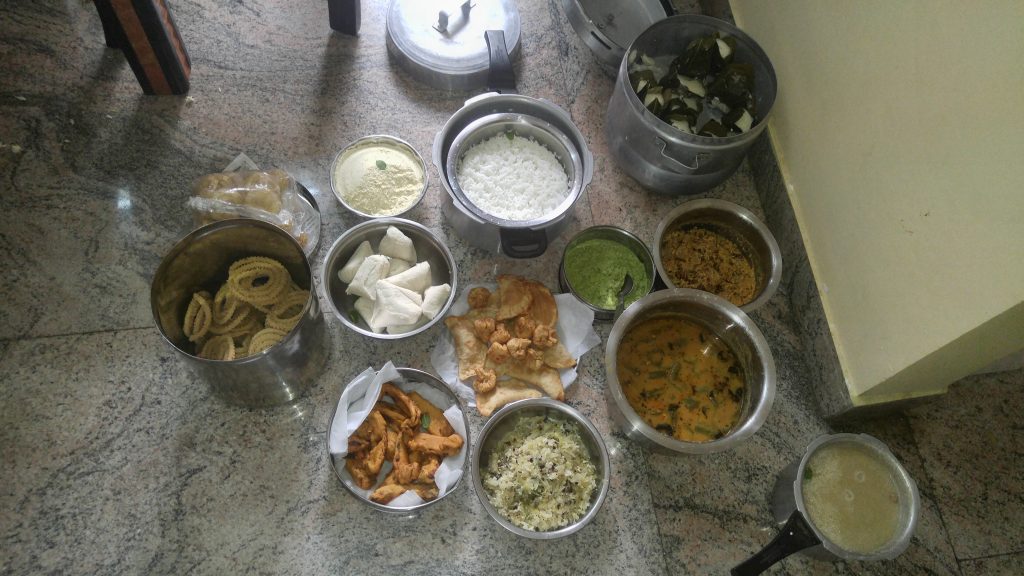 Vaina Gowri festival also involves performing pooja near house well, tulsi along with Goddess Gowri. Ganesha festival follows after this festival, which is also celebrated with great grandeur. After the Ganesha festival, the coconuts kept for Vayana can be given to elders as mentioned under Vaina procedure. The Vaina thread is later worn in the Mangalsutra by women after the festival.
Vayana Pictures
Vaina though followed only by Konkanis, still finds some differences across states. Like the above Vaina image with chalk designs across coconuts and the coconut tail still intact is found in South Canara, while the below image is that of Vayana followed in some North Canara districts where they lamp a small diya with wick on each coconut and then do aarti with this Vaina in front of God.